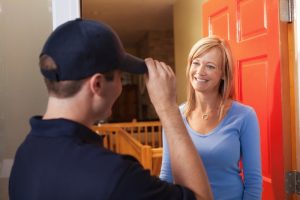 We're betting that when you hear the term "professional plumber" you probably don't imagine someone who can install and service gas lines. After all, plumbers are those who work with piping that carries water and sewage right? Services include things like repairing faucets, sinks, garbage disposals, and installing new Sterling, VA plumbing fixtures.
That's all true, but yes, plumbing professionals also install and service gas lines. In fact, this is a very important part of our job, and one you should only trust to highly trained and experienced plumbers such as our team. You can rely on us to handle any gas piping job, big or small.
The Role of Plumbing Professionals in Gas Pipe Services
There's actually a good deal in common with the plumbing system that carries your fresh and wastewater, and the piping that transfers natural gas. For instance, the pipes themselves are made from similar material. This can be galvanized steel, copper, or plastic.
Most natural gas piping is constructed form copper due to its resistance to corrosion and how lightweight it is. Gas plumbing pros use plastic pipes in some special situations, such as when you need flexible piping for small areas or narrow gas lines. Any well-trained plumber understands it is essential to make sure that gas pipes get just as much attention and care as other plumbing pipes, as gas pipe leaks can be dangerously unhealthy.
Your Plumber Must be Licensed for Gas Piping Work
It's important to note, just in case you're considering hiring an amateur or otherwise inexperienced handyman for your gas piping work that it's actually illegal in most jurisdictions for anyone to work on a gas pipe or gas-powered appliance if they do not have the proper licensing to do so.
The reason for the limitation on who you can hire for such a task is safety. As can be expected, leaking gas lines are a tremendous health and safety risk. Ensure you stay safe by only hiring licensed and experienced plumbers for your gas piping services. Our professional plumbers are the staff for the job.
Extend Your Natural Gas Use in Your Home
Our gas line plumbers can do many repair jobs effectively, but that's not all we're good for! We are available for quality gas line installations. If your home is limited by how much natural gas is available for use, we can help. So long as you have a municipal gas line to hook up to, we're able to expand your gas lines for any gas-powered appliance installation.
For instance, you may be looking to upgrade your water heater, or maybe have a gas-powered furnace installed before next winter. Understandably, you might like to switch over all your electrical appliances to gas, since after all, natural gas is much more affordable from month to month. Whatever your gas piping needs are, we're the team for the job.
For quality gas line services, in addition to comprehensive plumbing services, from highly trained and experienced plumbers, contact AllTech Services, Inc. today!