A program for those who know maintenance saves money
With costs being so high these days, it's important to get the most dollar value out of your heating, air condition, and plumbing systems as possible. If your system lasts 5 years longer due to proper maintenance, then you are saving replacement costs which can be expensive. With our Planned Maintenance Program, you are insuring your system will work better longer, and more efficiently. Our program includes all of the features needed to keep your system inspected and operating smoothly.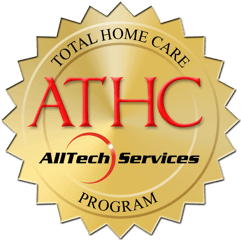 AllTech's Total Home Care
Combustion Adjustment, Professional Cleaning and Safety Inspection for your heating equipment.
Precision Tune-Up For Air Conditioning.
FREE Extended Repair Warranty.
FREE Priority Service.
FREE Annual Safety Inspection (plumbing).
FREE Water Heater Adjustment & Tune-Up.
Front of Line VIP Scheduling - Priority Status at no additional cost.
Diagnostic and Dispatch Fees Waived!!
Direct Line Concierge Service 7:00 am - 6:30 pm.
NO Overtime or After hours charges -
Repair Price Protection (NO hidden fees).
Automatic Scheduling for Maintenance.
10% Repair Service Discount
When you invest in the AllTech's Total Home Care, we will provide you with three service calls: an air conditioning precision tune-up and a combustion adjustment, professional cleaning, and plumbing safety inspection.
HVAC Diagnostic Fee Waived - (a $95 Value).
Plumbing Dispatch Fee Waived - (a $79 Value).
Water Heater Flush Waived - (a $150 Value).
HVAC Coil Cleanings Waived - (a $350 Value).
24 hour priority emergency service.
We provide you with priority service so that you move to the front of the line.
We offer guaranteed prices on all repairs before work begins, no matter how long the repair takes.
We offer a 10% total repair discount
Interested in Joining Our Total Home Care Program?
Fill out this form and we will contact you with more info.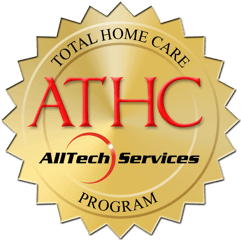 Learn About What's Included in Our HVAC & Plumbing Checklists & Why You Should Join AllTech's Home Care Program
24 Point Checklist:
Heating & Cooling
Clean Burner Assembly to improve combustion, reducing waste heat
Tune Burners for more efficient burns, saving energy
Clean Ignition Assembly to ensure reliable operation on demand
Clean & Inspect Furnace Heat Section to ensure safe operation and the absence of cracks from metal fatigue
Verify Flue Draft to ensure dangerous gas by-products are properly venting to the outdoors and flue pipes are free from obstruction
Inspect Flue Pipe to ensure no corrosion is present which can lead to cracks and the introduction of dangerous fumes into your home
Calibrate Thermostat for accurate control and to prevent system from running longer than necessary, increasing utility usage
Test Refrigerant Charge to ensure optimum levels leading to lower utility usage and extend compressor life
Test Capacitors to ensure reliable operation and continued compressor and motor protection
Test Crankcase Heaters to ensure proper compressor protection
Inspect & Test Controls & Safeties to keep operating costs low and prevent failures
Adjust Fan Switch to prevent wasted energy and excess sound levels from nuisance cycling
Adjust Balancing Dampers to improve comfort
Check Air Filters to reduce energy use, reduce compressor strain, improve indoor air quality, and improve comfort
Clean & Adjust Blower Assembly to extend motor life, improve air quality, and reduce sound
Check Air Flow to ensure proper air flow across the coil for proper humidity removal and reliable operation
Visually Inspect Ductwork to identify obvious leaks, which reduce system efficiency and increase utility expense
Tighten Electrical Connections to ensure uninterrupted system operation
Measure & Record Voltage & Amperage to identify baseline operating conditions
Lubricate All Moving Parts to maintain efficiency and extend equipment life
Clean Inside Evaporator Coil to restore heat transfer efficiency, reduce utility cost, and improve air quality (If accessible)
Clean Outside Condensing Coil to restore heat transfer efficiency, reduce utility cost (if water & hose are available)
Clean Condensate Drains to prevent water damage and the potential for mold formation
Apply Protective Coating to outside unit(s) to protect finish
15 Point Checklist:
Plumbing
Dye Test Toilets to identify leaks that could be costing you hundreds of dollars per year in wasted water
Repair Faucet Leaks by tightening loose handles, packing nuts, or valve stems (repairs requiring parts cost extra). Eliminating a 1/32" diameter leak reduces your water bill by more than the annual investment in the AllTech's Total Home Care
Clean Kitchen and Lavy Faucets Aerators for steady water flow (if possible)
Inspect visible piping for leaks and corrosion to identify potential leaks before they occur
Check Emergency Shut-off Valve operation to ensure the valves will be available when needed
Tag Emergency shut-off valves so you can easily identify the proper valves during a water crisis
Check washing machine hoses for material flexibility and integrity to identify the potential for hose rupture from deterioration
Clean and adjust free standing gas water heater pilots to ensure uninterrupted hot water
Clean and adjust gas water heater burners to optimize the burn, extending life and reducing energy use
Flush water heater tanks to remove sediment build-up from your home water system, extend water heater life, and improve water heater recovery and performance (If suitable drain valve is present)
Soap test gas water heater gas lines for property and life threatening leaks
Inspect gas water heater exhaust flues for leaks that might introduce deadly carbon
Check all drains above and below sinks for leaks and clogs
Check household water pressure to insure there is no water wasted and help the lifespan of your plumbing fixtures
Complete Water Test to improve the quality of water for your entire household.
Why You Should Join AllTech's Home Care Program
Avoid costly breakdowns
Although today's heating and cooling equipment is quite reliable, without proper maintenance it can break down when least expected. Repair bills during off hours or weekends can become expensive.
Minimize the inconvenience of no heating or cooling
Unfortunately, extreme hot or cold weather puts your heating and cooling system under the most stress. Most failures that occur during these conditions could have been avoided earlier in the season if the system had been checked out and serviced. No cooling on the 4th of July or no heat on Christmas Eve is inconvenient to say the least.
Protect your investment
The purchase of a new heating and cooling system, whether part of your new home or one that you have recently replace, is one of the most significant purchase you will make. Just like a car proper maintenance can protect your investment and lengthen its life.
Ensure priority service
But in the event you need service, agreement customers always get top priority. You can be ensured we will take care of you first before those that do not have an agreement.
Improve efficiency
With higher utility bills on the horizon, proper maintenance can minimize the energy required to heat and cool your home.
WARRANTY
Manufactures now require maintenance on your heating, cooling and water heaters.
If the systems are neglected and not maintained the manufacture will void their warranty.
Your Energy Savings Add Up!
Preventive maintenance lowers your energy consumption. Each service adds to overall high performance.
Service vs. Energy Savings:
Adjusting Operation & Sequence of Equipment: 25-35%
Removing Scale from Condenser Coils: 25-30%
Changing Dirty Air Filters: 10-15%
Adjusting Air/Fuel Ratio of Burners: 15%
Cleaning Burner Assembly: 15%
Eliminating Belt Slippage, Poor Fan Motor Alignment: 15-20%
Service Fan Motor: 15-20%
Cleaning Coils: 5-15%