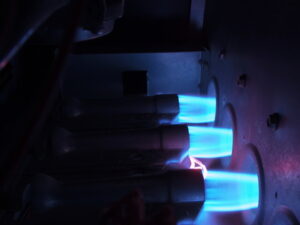 Gas-powered furnaces are not inherently dangerous appliances. That's something we want to clear up before we go any further. This post is not meant to incite panic—but it is meant to show you the importance that taking care of your furnace has on home safety.
Like any powerful appliance, or any appliance that creates combustion gas, a furnace does have the potential to create health issues if it's not properly cared for, or if symptoms of malfunctions are ignored. This is particularly true with a gas furnace.
What's the most common cause for gas furnace hazards? Cracked heat exchangers!
This is most likely to occur in an aging furnace (a heating system 15+ years old). That doesn't mean you automatically won't have this problem if you have a newer system, but it's something to keep in mind. But if your gas furnace is over a decade old, it's definitely time to assess its potential risks, including a cracked heat exchanger. Read on to learn more about why this is such a big deal.