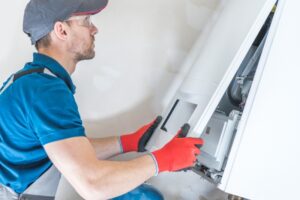 You might be tempted to pretend the weather's not getting chillier. It can be a little gloomy, accepting that summer's over and buttoning your house up for the winter. But school is in session, the Halloween decorations have been in stores for weeks, and it's time to make sure you'll be all set when it comes time to turn on the heat.
How can you make sure your heating system will be ready for the winter? By scheduling an appointment for annual heating maintenance.
Avoid Heating Repairs This Winter
Chances are, the last time anyone took a peek at your heater was last fall, when you had maintenance done. If you forgot to do that, it may have been even longer. Heating systems deal with a lot of wear and tear over the course of a winter's work. Lubrication wears away, dust builds up, friction increases, and components can overheat.
During maintenance, your technician will clear away dust and grit and apply lubrication to moving parts. Maintenance also provides an opportunity to catch minor concerns before they develop into problems that would require repair. Your technician will inspect and test all components to ensure everything is in tip-top shape.
Avoiding repairs means more than avoiding expense. It also means avoiding the inconvenience and unpleasantness of waiting in a cold house for a technician to arrive in January.
Increase Heating Efficiency
Because of that dust and grit, lack of lubrication, increased friction, and any minor issues like misaligned fan blades, a heating system that hasn't been maintained in a year will be a little bit less efficient. And it adds up: a heating system that hasn't been maintained in three or four years will be a lot less efficient! To save energy and money, get maintenance every year.
Increase Comfort
A heating system that is inefficient and struggling with minor issues simply won't be able to provide the best comfort. You could end up with cold spots in your home where the heat never quite reaches, or temperatures fluctuating more widely than you'd like. Maintenance will ensure that you have the comfort you deserve.
System Longevity
A gas furnace should be able to do its job well for about 15 years. An electric furnace or heat pump might last 20 or so. A boiler could even keep running for 30 years. But these estimates are all based on heating systems being maintained every year. Lack of maintenance could cut those lifespans in half. 
Investing in a new heater when your previous system should have lasted for several more years is awful. To make sure that won't happen to you, get maintenance done every year, and when you have concerns, get heating repair in Sterling, VA as promptly as possible so small issues stay small and can be easily repaired.
Schedule your appointment for heating maintenance right away to make sure you get all these benefits, and to feel secure in the knowledge that your home will be cozy all winter long.
AllTech Services, Inc. is your trusted resource for heating maintenance and repair. Contact us today!