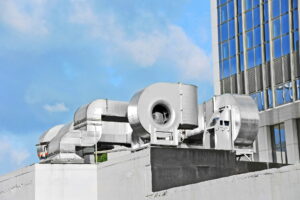 A lot of people have some experience with HVAC systems. For example, many people work professionally installing and repairing residential HVAC systems. And some property managers do have a bit of experience with HVAC, along with all the other areas they have to supervise. However well these folks do their jobs, they are not experts in commercial systems. It makes a big difference to hire someone that specializes in commercial HVAC installation, maintenance, and repair. Here are some ways our team can ensure that your commercial HVAC needs are completely met.
Experience With Large-Scale Systems
The HVAC systems required by many commercial spaces are not simply bigger versions of residential systems. They are more complex, as the spaces have more complex needs. Our technicians are specifically trained to be aware of the differences in how commercial spaces are constructed and how they are used to ensure that they can provide HVAC solutions that fit the unique needs of your building.
Experience With Commercial Settings
Because commercial buildings may have many users, such as tenants, employees, and customers, it is important for your technician to understand their needs. Our team prioritizes minimizing the inconvenience to all users of commercial spaces during installation, maintenance, and repair. We know how important it is to you to keep your business running smoothly, and we strive to meet your needs with as little interruption to the daily flow of your commercial space as possible.
Consistent Service
When you choose AllTech Services to partner with you in the care of your commercial HVAC in Manassas, VA, you have a team that knows your property and your HVAC system. Because our services are comprehensive, we can not only install your commercial HVAC system, we can also provide regular maintenance and all necessary repairs. Our familiarity with your space and your needs will ensure that you can trust our service to be consistent and knowledgeable. If you were to choose a contractor who only does installations, you would be in the position of finding someone to maintain or repair it who is not familiar with your system. When you choose AllTech Services, any time you have a concern or a problem, you will have a partner in problem-solving who knows exactly what they're dealing with.
Professional Qualifications
We have served the northern Virginia area for more than two decades, building relationships with business owners and providing long-lasting, reliable service. We have technicians certified by NATE (North American Technician Excellence), an organization that trains and tests technicians. These certifications are renewed through additional training and testing every two years. And finally, we offer a 100% satisfaction guarantee for a year following our work. With AllTech Services, you can lay your worries to rest and trust that your commercial property is in highly-qualified, well-trained hands and will be reliably maintained for years to come.
Please reach out with your questions about commercial HVAC installation, maintenance, or repair, or make an appointment for a technician to assess your property and your HVAC needs.
AllTech Services, Inc. is your trusted resource for commercial HVAC services. Contact us today!