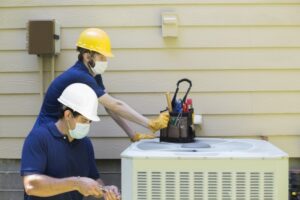 You've likely heard of air conditioning maintenance. It's a service performed on air conditioners and it has a ton of great benefits! If you don't know too much about air conditioning maintenance, or you're concerned about making sure your air conditioning stays in the best possible shape, it's a good idea to learn a little about what air conditioning maintenance entails.
You may be wondering, "How often should I schedule air conditioning maintenance?" or "Should I get an AC tune-up?"
We're here to answer all of those important questions for you. Find out why regular air conditioning maintenance is so crucial and why you should be scheduling an AC tune-up every year. 
Four Benefits to Scheduling AC Maintenance ASAP
While an AC tune-up may not seem like it should be at the top of your priority list if your AC is working just fine, that's not the case. You'll thank yourself in the long run for scheduling regular AC maintenance. In fact, we recommend getting an AC tune-up every year. Here are a few reasons why:
Better energy efficiency
During maintenance, we go in and tune up the air condition system in a way that allows it to operate with a better energy efficiency level. With better energy efficiency, your house will have no problem staying cool on the hottest days of the year! Even better, more energy efficiency means less energy usage. With lower energy usage, you'll save money on monthly utilities.
Doing regular maintenance on your air conditioning system helps prevent a loss of 5% of efficiency each year! Your air conditioning will be energy efficient for much longer with yearly maintenance.
You'll have a more effective AC system
Being more energy-efficient means that your air conditioning system will have no problem operating effectively. Regular maintenance also helps to fix any possible concerns so that you can be sure that your air conditioning will be effective all year long.
Spend less money on repairs
Addressing any of those minor concerns during a yearly tune-up prevents them from escalating into full-blown repairs. Save money in the long run by not having to pay for huge repairs in the future. This will also save you tons of stress and help keep you comfortable year-round.
This annual maintenance is so important in terms of repairs because it can actually prevent up to 85% of the repairs your AC would need over the course of its lifespan without maintenance.
Your AC will last longer
At the end of the day, a well-maintained air conditioning system will last longer than a system that doesn't receive yearly tune-ups. Annual maintenance can add YEARS to your air conditioning's life. So if you want to get the most out of your AC system, now is the time to schedule a time-up!
You'll Need an Expert
Most importantly, you'll need an expert. Only a professional can provide the critical maintenance that will help extend the life of your air conditioning and improve the system's efficiency.
For professional and reliable AC repair in Gainesville, VA, look no further than AllTech Services, Inc. Contact us today!