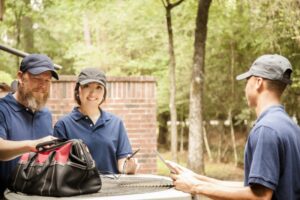 Temperatures are going to be warming up very soon, which means now is the time to think about how you're going to keep your home reliably cool. This is easier to do than you might think! Not only can you take steps to ensure your air conditioner works great, but you can even boost its performance for the rest of spring and throughout summer.
We are here for all your air conditioning needs throughout Ashburn and beyond. We know you want to have the best air conditioner service possible, so whether you're installing a new system, repairing an old one, or want to schedule maintenance, we're the local team to call. In the meantime though, read on to learn what you can do today to boost AC performance and efficiency.
Schedule a Maintenance Session
You'll want to ensure that you maintain your home's air conditioning system at least once annually. We say "at least" because if you have a heat pump system, it's a different story. Heat pumps are year-round climate control systems, providing you with both powerful cooling and efficient heating. They need professional maintenance twice a year, as a result.
That said, spring maintenance for your air conditioning system is a great way to boost performance. Maintenance allows our technicians to comprehensively clean, inspect, and adjust the components that need it, all of which reduce repair needs, improve system longevity, and just help your air conditioner perform better overall.
Make Sure Your Vents and Outdoor Unit Are Unobstructed
You'll want to make sure that your vents are able to supply chilled air into your home without any obstructions. If the vents are closed, blocked by furniture or anything hanging on the walls, it can restrict airflow and cause the air conditioner to run longer than it should have to in order to achieve your desired temperature setting on the thermostat.
The same goes for if your outdoor unit is obstructed by things like tree branches, leaves, lawn mulch, etc. The outdoor unit is where the hot air from inside your home is expelled. So if it's obstructed, it will trap hot air in the system, which will definitely have a negative impact on AC performance.
Be Sure to Change the Air Filter
Your HVAC system comes standard with an air filter to protect its interior from dirt, dust, and other debris that can get in and harm sensitive components. The air filter is something you can, and should, change on your own.
Depending on the type of air filter you have and the level of contaminants in your house, we recommend you change the filter every 1–3 months. A home with a lot of pet dander or something like cigarette smoke will need to have its HVAC air filter changed more often than one without, for instance.
These are just a few ways to boost your AC's performance and efficiency. If you ever notice that your air conditioner isn't operating as it once did or as powerfully as you think it's supposed to, give our team a call.
AllTech Services, Inc. is your trusted resource for AC service in Ashburn, VA. Contact us today!