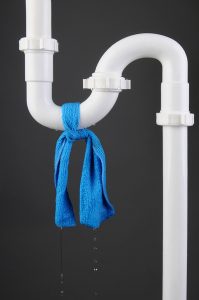 Without the right equipment and know-how, it can be hard to detect a plumbing problem. Most of your plumbing system, after all, is hidden from view, and the problems that occur start off subtly. This is a huge part of the reason we recommend scheduling preventing maintenance at least once a year.
It's also a good idea for homeowners to familiarize themselves with the warning signs that their plumbing system is showing signs that something is amiss. This way, if a problem happens between maintenance sessions, you can spot it and call for professional repairs right away. Keep reading to learn more about these signs.
A Drop in Water Pressure
A decline in your water pressure is never a good sign, though some problems are more severe than others. Usually, a loss in water pressure means there is a leak or blockage somewhere throughout your plumbing system. A slow loss of pressure over time means a clog has been building up, most likely, such as with limescale.
But a sudden loss of water pressure can mean that you have a pipe rupture. This would certainly qualify as an emergency—but regardless of how urgent your plumbing problem may seem, we encourage you to call our team right away regardless.
Unusually High Water Bills
Do you pay much attention to your water bills month-to-month, or do you just pay them? We urge you to take a look, just in case they start rising. If your water bills seem to be increasing beyond what you think they should be or beyond what's normal for the amount of water you use, then you can certainly have a leak somewhere in your plumbing system.
Running Water Meter
Do you suspect you have a leak? There's one fairly easy way to check. Turn off all the plumbing appliances in your home, and then check your water meter. If the meter is still running, it means that water is likely still leaving your system somewhere—meaning you have a leak. Call our plumbers if you notice this happening!
There Are Signs of Water Damage
Even if you're super careful about these types of things, the unfortunate fact of the matter is that many plumbing problems only become noticeable once they've gotten far enough along to start actually inflicting damage.
Pinhole leaks are often found only after they've already rotted out the surrounding area with water damage. If you see any signs of water damage on your walls or ceiling, it's a good idea to call a professional to check on it as soon as possible.
As is always the case when you suspect a problem in your home, it's better to be safe than sorry. You should call a professional plumber as soon as you have reason to believe that something is amiss with your pipes. The faster they can get to the problem and repair it, the better off the plumbing will be.
AllTech Services, Inc. is your trusted resource when you need reliable service on your plumbing in Sterling, VA. Contact us today!