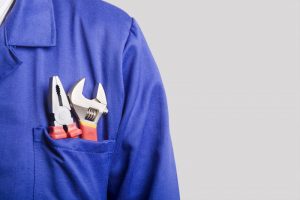 Let's face it, it is cheaper to hire a general handyman to repair a leak or unclog a drain right? Better yet, why can't you just do it yourself?
We know like these both seem as though they're appealing options, but you may actually end up regretting this choice. An ineffective or incomplete plumbing repair job can leave you calling a professional plumber anyway, and costing you more than you would have ultimately spent, to begin with.
Our professional plumbers have been on the job for years, and we've seen what can happen when homeowners choose to go for the deal rather than the tried and true professionals. However, when you are ready to hire a professional plumber, how do you know what traits to look for? How do you actually choose the right plumber for your repair or even an installation job?
Qualities to Look for in a Professional Plumber
Simply put, you want a licensed, insured, and experienced plumber. But you also need to know how to spot these qualities.
Licensing
In most states, a plumber has to have a set amount of experience to even quality for what's called journeyman status, or a specialty plumber certificate. This level allows a professional plumber to install, repair, and maintain plumbing systems in single-family dwellings, duplexes, and small apartment buildings.
A plumber without this very basic licensing can't guarantee they actually have the skills and knowledge to complete a job as effectively as possible and can leave you with problems pretty soon down the road. You don't want to trust your plumbing services to a "general handyman" or an amateur and risk a job done poorly or incompletely, right?
Insurance
It's vital that licensed plumbers also be insured to work in your community. In most cases, licensing requires a minimum general liability policy for plumbing contractors. This means two things—if a plumber causes damage to your property, they will pay for it, and also if a plumber is injured on the job, they're covered by their company's insurance.
Training and Experience
Our professional plumbers go through years of extensive training and education in order to complete whatever plumbing task is asked of them, properly. Under the guidance of an experienced contractor, they're able to learn the ropes and accurately diagnose and repair any plumbing promises you might have in your home.
Why You Shouldn't Trust and Amateur
When you have an inexperienced plumber on the job, you can run into a number of issues, such as:
Them choosing the wrong tool to solve the problem and causing even more damage to your pipes in the meantime.
A lack of the right inspection equipment and therefore the inability to accurately find the source of a leak or clog.
Poorly done plumbing installations.
Failure to follow local codes.
An incomplete job, leading you to pay even more to have a professional plumber fix the original problem and the problem left behind by the amateur.
When you need a trusted, licensed Ashburn plumber, turn to the company known for exceptional business values: AllTech Services, Inc. Contact us today!