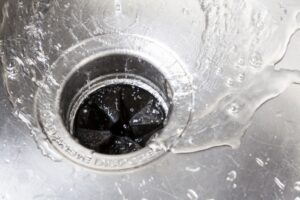 If we had to guess, we'd imagine that you don't spend a whole lot of time thinking about the drains in your home, or the rest of your plumbing system for that matter. That is, you don't think about them until something goes wrong—like a clogged drain.
Sometimes it's possible to resolve clogged drains on your own. No, we aren't talking about reaching for that bottle of store-bought chemical drain cleaner you keep under the sink—that's bad news (more on that in a bit). We're talking about superficial drain clogs you can relieve with a plunger and a little bit of "elbow grease." Another step you can take if your drain clog results in a smelly drain is to wash a little baking soda and vinegar down with hot water to help alleviate it.
If you're still experiencing problems after these steps, that's when it's time to call us for professional drain cleaning.
The Power of Professional Drain Cleaning
Do you have a stubborn clog that a plunger didn't help remove at all? Like we mentioned above, the last thing you want to do is try to use chemical liquid drain cleaners on the problem. The reason for this is that it can cause more harm than good to your drainpipes.
You see, the chemicals in these "solutions" are highly caustic. They can damage the lining of your plumbing pipes and lead to pinhole leaks and eventual pipe ruptures. Not to mention, they can be harmful for you to come into contact with, as well.
When you hire a professional for your drain cleaning, you can count on the clog being removed effectively. We'll remove all the debris from your drainpipe walls without using any harmful chemicals to do it.
Drain Cleaning Is About More Than Your Current Needs
You may need drain cleaning right now, but drain cleaning is about more than that. It's actually a preventative step to take as well. Just like your HVAC systems need annual maintenance, so do your plumbing pipes!
During your annual drain cleaning services, our professionals will use methods such as drain snakes or hydro-jetters to restore your pipes to better conditions. This means you'll be unlikely to deal with clogs throughout the rest of the year as it prevents build-ups from happening to begin with.
Routine drain cleaning keeps your plumbing system healthy and can help extend its lifespan. This is because drains that are filled up with buildup and debris can begin to corrode—this is especially an issue with things like soap scum and buildup from cleaning products as it creates a chemical reaction with the metal in the pipes. If you add store-bought chemical drain cleaners on top of this, you're asking for plumbing trouble!
During your drain cleaning session, our plumbers will take a good look at your plumbing system. We can let you know if there is any cause for concern. We can use video pipe equipment to check for potential leaks so you can get repairs on your schedule before they grow into a huge plumbing emergency. Don't hesitate to reach out to our team to learn more.
Contact AllTech Services, Inc. to get in touch with a qualified plumber in Woodbridge, VA.