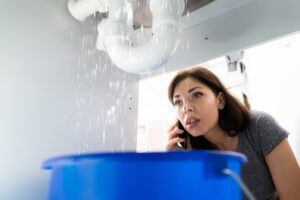 It might seem like no matter what type of plumbing problem you have, it warrants a call to an emergency plumber. This isn't always the case, though. Of course we are here for you if you do have a plumbing emergency, but we also know that plumbing problems never happen at a convenient time, and you'd probably like to schedule repairs so you know when to expect a technician at your home. So if you're looking at something like a leaky faucet or a dripping pipe underneath a sink, then you may want to just turn the water shut-off valve for that particular fixture for now.
Of course, there are other times that you really do have an emergency on your hands. We have five examples of those plumbing problems below. If any of these describe your scenario, please don't hesitate to reach out!
1. Overflowing Toilet
An overflowing toilet is one of those things that can send you into a panic. The good news is, once the tank has run out of water, as long as you don't flush the toilet again you won't have any more overflow. But once that damage is done, it's done. If your toilet has overflowed and you can't easily resolve the issue with a plunger, then it's time to give our team a call. We may need to use a drain snake or even a hydro-jet to fix the issue.
2. No Hot Water
This is clearly a big deal. Whether you're going to take a shower or wash dishes, you need your water heater to do its job! And your water heater might be doing its job. But it may be that the hot water line leading out of the water heater has sprung a leak, or if you have a tankless system it may be that a heat exchanger failed. Either way, this isn't a problem you want to wait on, in case it is a leak.
3. Loss of Water Pressure
A slow decline in water pressure over time is indicative of a leak in your home, while a sudden drop in water pressure is a sign of a pipe rupture. Either way, it's time to call our number before any more water is wasted or water damage is done!
4. Slab Leak
Slab leaks are among the most insidious of plumbing leaks. They're notoriously hard to spot, too. But if you notice weird symptoms in your home like hot or cold spots on the ground, or the sound of running water beneath your feet, then you could very well have a slab leak.
5. Multiple Clogged Drains
Clogged drains are often the bane of a homeowner's existence. They stop you from being able to use that particular plumbing appliance or fixture, and they're generally a pain. If it's just one drain, it might be a superficial enough clog that you can relieve it with a plunger and a little bit of "elbow grease"… or at least wait until regular business hours to call your plumber.
If, however, you have multiple drains that are clogged (and if they're accompanied by a bad odor) then you might have a blocked or damaged sewer line. This absolutely warrants a call to our emergency plumbers, otherwise you could have a very unhygienic and costly problem on your hands if you wait too long to address it.
For professional Fairfax, VA emergency plumbing service, look no further than AllTech Services, Inc. Contact us today!