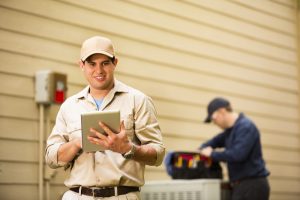 With the official end of summer just a week away, you may have realized you never had your air conditioner maintained for the season. It got through summer "just fine" so you may as well just wait until next year right? It's too late to schedule an AC tune-up now, isn't it?
Well, no, it's never too late to schedule maintenance for your air conditioner. Unless of course it's completely broken down to the point that there is no bringing it back no matter what type of repairs are done on it. But we're going to guess if you've found yourself asking the question this blog proposes, you're not quite there yet, right? So read on as we uncover why AC maintenance is so important, no matter what time of the year you have it done.
First off, maintenance is required once a year to keep an air conditioner in good shape. The time of the year matters a lot less than how consistent you are with the service. And if you have a year-round heat pump system this is even more important—a heat pump both cools and heats the home and therefore requires maintenance twice a year. Sticking to your AC maintenance schedule is important because:
Summer Doesn't Always Take a Holiday
We've been known to have our heatwaves in late fall or early spring. The fact is, you may need your air conditioner for more than just the summer season. As chilly as our winters get, when temperatures are warm, they're too warm, and you want your cooling system to keep up. The best way to ensure it does is by staying on top of your tune-ups.
Maintenance Keeps Costs Down
Did you know that every year your air conditioner goes without maintenance, it loses about 5% of its efficiency? This drop-off gets steeper as the years go by, until you're paying for an AC system that is running much longer than it should have to in order to function.
Tune-Ups Help You Avoid Breakdowns
The biggest reason to stay on top of your routine AC maintenance appointments is that it prevents your cooling system from breaking down unexpectedly during one of the hottest days of the year. We have plenty of those, so make sure you're prepared.
Maintenance Prevents Repair Needs
Look, every air conditioner is going to need a repair here and there. It's a major electrical appliance and parts wear down over the years. But what you should never have to deal with is calling for repairs a few times a year. This means either your air conditioner is very old and starting to succumb to old age, or you haven't done a good job of keeping up on maintenance.
AC maintenance can actually help you avoid up to 85% of the repair needs your system may ever need in its lifetime, plus it extends the length of that lifetime!
For professional AC maintenance in Ashburn, VA, look no further than AllTech Services, Inc. Contact us today!