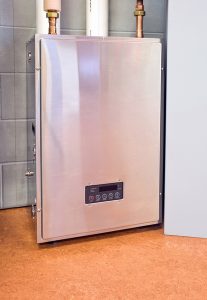 When you need a new air conditioner, shopping in the middle of summer can feel a little hectic. After all, it's the busiest time of the year for HVAC contractors, and you don't want to feel rushed into a decision, but you need cooling now.
It's different for a water heater, though. You can literally buy it any time of the year and not worry about a huge disruption in service. So, if you've been considering replacing your aging storage tank model water heater, now is the perfect time to consider going tankless!
Tankless water heaters have become increasingly popular among homeowners, and for good reason. Just like with any water heater system though, there are pros and cons to going tankless. We'll get into them below, and we're happy to help you make an educated decision about whether or not one is right for your household.