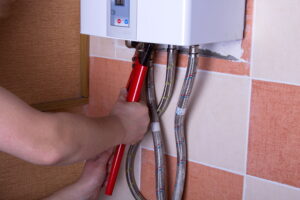 The short answer to this is "yes," but don't worry, we're going to explain below.
The conventional storage tank water heater is large, always pretty noticeable, and can even be a bit noisy, right? In other words, the average homeowner who has one of these systems probably knows that it needs attention and care by way of professional maintenance. After all, scaling can have a big impact on the water heater. It allows mineral buildup (calcium and magnesium mainly, but also iron in some cases), that creates problems with water pressure, temperature, and even eventual corrosion. As part of professional maintenance, tank water heaters require occasional flushing.
But a tankless system is different, right? So why does it need maintenance? Well, for the same reasons a conventional storage tank water heater does, actually. Read on as we uncover the impact of scaling on a tankless system, and therefore why tankless water heaters need maintenance.