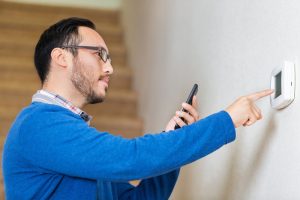 You may be living with a thermostat you inherited when you bought your home. Or maybe you purchased your own thermostat, but it was many years ago. Today's options have grown, exponentially so, and choosing the right thermostat to pair with your heating and cooling system can help you save money and improve your comfort. If you're already considering upgrading your thermostat, then contact our team.
We're Ashburn, VA HVAC service pros, dedicated to helping you achieve optimal comfort within your living space. It's likely that you don't even know how much the improper installation of a thermostat can affect your heating system, which is the last thing you want to deal with this winter. This is why we don't recommend completing the installation yourself. In fact, doing this can invalidate the equipment warranty on the device.
What You Should Know About Your Thermostat
Any thermostat can end up damaging your heating system (or your cooling system) by sending the wrong signals if it is improperly located in your home, or if it's otherwise installed incorrectly. Our expert technicians have the knowledge and skill necessary to ensure this doesn't happen.
The Effect of Your Thermostat on the Heater
As we stated earlier, the correct installation of your thermostat is vital to its effectiveness. But how you use your thermostat is as important. Setting your thermostat too high during the colder months, especially if you're not even home while the heater is running, causes your heating system to work harder than it should have to. Plus, it can be dangerous if you have a gas-powered system.
Your heater will keep trying to reach your desired temperature, even if it is unrealistic. For instance, you may be trying to aim for 78°F on a 40°F day. One of the best ways to improve your heating efficiency is by using your thermostat correctly, and this includes having the right thermostat to begin with.
Consider upgrading to a programmable thermostat, so you can set the temperatures lower during the day when you aren't at home, and turn it up at night when you arrive home. You might even want to consider a Wi-Fi thermostat, which learns your heating habits and adjusts itself accordingly.
What If Your Thermostat Is Malfunctioning?
A malfunctioning thermostat, no matter what kind it is, can cause a number of problems for your heater, ultimately hurting its effectiveness and efficiency. For instance, a thermostat sending incorrect signals—or no signals at all—can result in a heater that won't even start up.
Conversely, you might have a heater that won't stop running. A miscalibrated thermostat that keeps sending incorrect instructions to the heating system could keep it running, or there might even be a wiring defect, preventing your thermostat from accurately connecting to the system.
One last problem that can occur due to a malfunctioning thermostat is uneven heating. While this problem is most often attributed to damaged ductwork, your thermostat might be the problem. If it keeps switching the heater on and off at the wrong times, this will lead to poor distribution of temperatures to the rooms furthest from the central unit.
For quality HVAC services, contact AllTech Services, Inc. today.