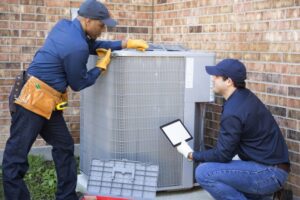 One of the most popular questions we get as HVAC professionals is how homeowners can improve their system's efficiency in a way that it will cost them less to run their air conditioners, without sacrificing comfort. Considering how uncomfortable it can get outside during our summer seasons, this is a perfectly reasonable question.
And we have good news! First off, there are a number of services you can have done that will help your air conditioner perform better, plus prevent repairs. Take maintenance, for example. Annual (or biannual, if you have a heat pump) tune-ups will ensure that your system works as efficiently and effectively as its meant to for as long as it's meant to.
You can also help improve AC efficiency by performing a couple minor maintenance tasks on your own, like changing out the air filter and making sure the outside unit of your air conditioner is free of debris that can impact airflow. Here are a couple more things you can do that you might not have considered:
Have a Whole-House Dehumidifier Installed
Did you know the ideal relative humidity level in any given home is between 30–50%? Anything above this range means there's too much ambient moisture in the air to let sweat evaporate off your skin. This causes the air to feel hotter than it actually is. It is both uncomfortable and unhealthy.
Air conditioning systems are capable of removing some moisture from the air by the nature of their setup, but they can't remove enough to truly dehumidify an entire household, because that's not what cooling systems are designed for. Additionally, too much humidity increases the strain on your air conditioner, causing it to perform inefficiently.
So, how will a whole-house dehumidifier help your home? Well … it enables you to set humidity levels in your house to a comfortable setting and ensures that you are able to eliminate the mugginess from your home environment so it can't make you ill or allow mold to develop. Additionally, it takes that added strain off of your cooling system and allows the air conditioner to do its job much more efficiently and effectively. This ultimately helps you save energy, save money, and reduce the risk of a serious AC breakdown.
Have a Zoned Control System Installed
This is a fantastic option if you have a central air conditioner and a large home. Air conditioning systems can often struggle to cool the air evenly in a big home, especially if it's two stories or more. This causes a lot of wasted energy as you try to adjust your thermostat to accommodate.
With a zone control system, we strategically place a series of dampers within your air ducts, which divide your home into sections known as zones. This means you can turn off the conditioned air in unused portions of your home such as guest rooms or currently unoccupied bedrooms. This saves energy too.
Contact AllTech Services, Inc. today for reliable Sterling, VA air conditioning services.