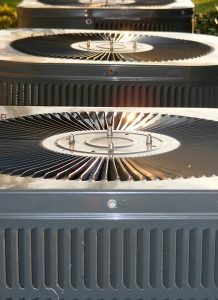 With temperatures slowly but surely warming up, it's time to start thinking about your air conditioner. Whether you have a newer system or an aging unit, we hope that you've scheduled your annual AC maintenance appointment to ensure that it will continue to work as efficiently as it should for as long as it can.
Another important factor to keep in mind regarding your air conditioner is that if it was installed before 2010, it probably uses a type of refrigerant called R22 Freon or HCFC(hydrochlorofluorocarbons)22 Freon. The production and import of this type of refrigerant was prohibited 7 years ago due to it's contribution to the depletion of the Earth's ozone layer.
Phasing Out R22
R22 is no longer manufactured anywhere in North America, but may still exist with your older air conditioning system. For now, you can still obtain recycled R22 for your existing air conditioner, but the cost is rising drastically due to the decreasing supply. This refrigerant won't be available at all by 2020.
This also means that if you still have a system that uses R22, when you experience a refrigerant leak you'll have to spend a lot more than you otherwise would im order to have it repaired and have the refrigerant recharged (refilled). Plus after 2020, you won't even have the option of having your refrigerant recharged if you don't have the right type of air conditioner to accommodate it anyway.
What Should I Do?
If you do have an older air conditioning system, there are a few options for you. You could call our professionals to replace the components in your current air conditioner to help make it compatible with approved the air conditioner refrigerant 410A (Puron). We don't typically recommend this, though, considering it could render the warranty on your cooling system null and void.
Another option is to continue to use recycled R22 until 2020, and replace your system then. In the meantime, your cooling system would be harming the environment. The third—and most viable—option is to replace your outdated AC system with a more environmentally friendly system that can use the approved AC refrigerant.
The Benefits of Upgrading
There are a number of advantages to upgrading your air conditioner in addition to helping out the environment. For example, air conditioners today are built with much higher SEER (Seasonal Energy Efficiency Ratio) ratings than those of the past, meaning your new cooling system will be much more efficient.
You also don't have to stick with a central air conditioner, if that's what you're currently using. You may want to consider a heat pump—which can be used for both cooling and heating—or even a ductless system to rid your home of the indoor air quality problems that breached ductwork can present.
Or if you do want to stick with a traditional central AC system, you may want to integrate a zone control system into your installation. Zone control cooling enables you to control the individual temperatures of rooms throughout the house. This way, you aren't wasting energy on unoccupied rooms such as a guest room, or even an entire upstairs floor while nobody else is home.
For all of your air conditioning needs in Purcellville, VA and beyond, contact AllTech Services, Inc. today.