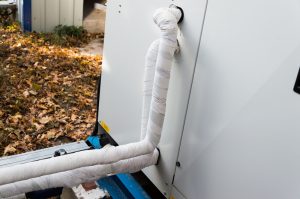 Don't worry, you probably don't have a snake hiding anywhere in your system. Besides, the "hissing" we're referring to sounds more like air being let out of a tire. Alternatively, you may hear bubbling if this particular air conditioner problem is occurring. What problem is that, you ask?
Refrigerant, leaving then AC system.
Before we go any further, we need to clear up a common misconception. Refrigerant is not meant to leave an AC's system. Ideally, upon manufacturing your air conditioner has enough refrigerant to last its entire lifespan. It's in a closed-loop system and is the fluid necessary to transfer heat. It's quite literally the component that allows your air conditioner to actually cool your living space. So, if it is leaving the system, what does that mean, and why does it matter? Read on to find out!