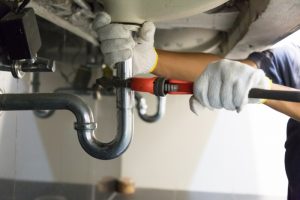 It pretty much goes without saying that a plumbing problem never happens at a convenient time. Does any problem ever happen conveniently, after all? Still, though, there are certainly some problems that are more urgent than others, and taking care of these urgent needs is an essential part of our professional plumbers' jobs. We're always ready to come to your rescue and fix your plumbing problem, no matter what it might be, and no matter when it might be.
Read on as we uncover several of the most common plumbing emergencies we get called for. We assure you, if you're experiencing one of these issues, it counts as an emergency and it's time to pick up your phone and dial our number!
An Overflowing Toilet
This can certainly cause a homeowner to panic, and for good reason! The toilet being temporarily out of use is just the beginning of the issue—an overflowing toilet leads to water damage, potential property damage, and an unsanitary situation in many cases.
The good news here is that the overflow can be stopped quickly by turning the valve on the feedline to stop the flow. Then, give our team a call.
There are a number of reasons a toilet can get clogged and overflow, particularly as it ages and becomes less efficient. But the number one cause is flushing the wrong things down—paper towels, kitty litter, trash, and even simply too much toilet paper.
A Clogged Sink
Now, a minor sink clog is something you might be able to clear out on your own, with a plunger and a little bit of "elbow grease." Or you might even be able to use a store-bought or rented drain snake for the job.
If this doesn't work, a homeowners' next step is usually to try chemical liquid drain cleaner—please don't do this! These "solutions" have chemicals that are actually quite caustic, and even though they may temporarily relieve whatever's clogging up the sink, they'll also eat away at your pipes.
Don't let a sink clog grow into a much bigger emergency than it already is, reach out to our team for help!
Foul Odors from Drains
Have you noticed a foul odor coming from one or two drains? You might be dealing with food waste buildup if it's a kitchen sink. Or it could be dirt and debris buildup causing the smell if it's an outdoor drain. But if you're walking through your home and notice that a number of drains are emitting bad smells, you're very likely dealing with a sewer line problem of some kind—maybe a blockage.
One of the most common types of sewer line blockages is tree root infiltration. If an aging sewer line has even the smallest pinhole leak, it can start fertilizing the landscaping around it, attracting tree roots right to it!
These are just a few examples of when it's time to call an emergency plumber. Of course, if you're ever facing a plumbing problem that you don't know how to handle, we welcome your call—please don't hesitate to reach out!
When you need an emergency plumber in Ashburn, look no further than AllTech Services, Inc. Contact us today!