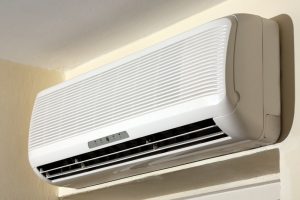 Ductless air conditioning and heating systems are a common recommendation for us to make to homeowners who've dealt with either the hassle of a house without ducts, or a ducted system with damage that makes their HVAC system work inefficiently. Ductless systems offer far greater comfort and efficiency than standard window units, and they are less obtrusive. Lastly, they are more reliable and long-lasting. But this doesn't mean they're immune to problems!
If you have a ductless system, it's important to watch out for these problems and call in a pro right away if you do notice them. In order to prevent emergency Ashburn, VA HVAC services, be sure to schedule maintenance for your ductless system twice a year. In the meantime, watch out for the following:
Refrigerant Leak
The refrigerant lines for your ductless mini split system can be extensive, since refrigerant has to travel through several indoor units and to the outdoor unit of the system. Refrigerant is not actually supposed to deplete from your system, but it may leak due to standard wear and tear after long periods of use, or due to improper installation. Technicians should seal the leak before recharging refrigerant. (Do not let any professional tell you that refrigerant needs to be refilled on a routine basis!)
Mechanical or Motor Problems
Not every problem with a ductless system is going to be refrigerant-related. There are a number of components that help a ductless system function, more than with a conventional central air conditioner. Any of these components can be responsible for a broken of malfunctioning HVAC system. You could have a broken fan motor, problems with the compressor, or a broken capacitor.
Aesthetic Issues
Ductless systems do not experience as many of the issues as conventional central air conditioners do, due to their lack of air ducts. However, they can experience problems that are unique to their own structure. One of the most common has to do with the way it looks.
If a ductless unit isn't installed properly, it could begin peeling away from the wall with time, or can cause paint to start peeling off your wall. Not only is this an aesthetic issue, but it could eventually mean that the air handler will completely separate from the wall, causing damage to your home and to the system itself.
The Benefits of Going Ductless
We do not mean to steer you away from a ductless system by listing some of the problems you may experience! In fact, ductless systems tend to experience less trouble than more conventional air conditioners or furnaces due to their setup, particularly since you do not have ductwork to contend with.
Over time, air ducts can become damaged—particularly if they weren't installed correctly to begin with. Damaged air ducts can account for as much as 30% of air loss, meaning that your heating and/or cooling system can't work as efficiently as it should, costing you unnecessary money.
Additionally, ductless systems operate on heat pump technology, meaning that not only do they provide sufficient cooling in the summer, but can effectively heat your home in the winter, too.
Whether you'd like to schedule ductless services or want to learn more about these systems, you only need to make one call—contact AllTech Services, Inc. today!